FRESH & HEALTHY
READY-TO-EAT MEALS
Delivery, Pick-Up or Grab n Go
Ready to Eat. Heat & Enjoy!
At Golden State Chef Co, we aim to make life easier. That's why we prepare ready to eat meals for those nights you just don't want to cook or go out. All of our meals are made fresh, never frozen, and are packaged in sustainable, eco-friendly packaging. 
There are many ways to enjoy Golden State Meals. You can plan your next week in advance and preorder between Thursday morning until Sunday at midnight for Monday delivery or pickup between 4-8pm
If you don't want to preorder, don't worry, just pop into our Royal Oak location anytime we're open to grab a few meals from our Grab n Go cooler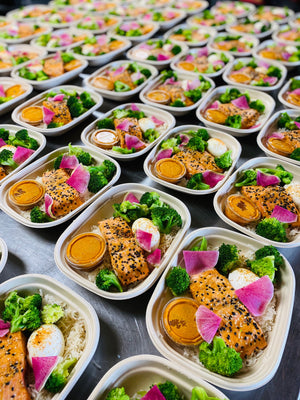 New Menu
Every Week
Our menu changes weekly so you never get bored with same choice each week!
Meet our chef.

Choose Pick Up, Delivery or Grab n Go!
Deliveries and pick-ups are every Monday between 4-8pm. You can also just drop in anytime we're open and grab a meal or two or ten!

No Subscriptions or Contracts!
Just order when you need us or pop in anytime we're open and grab some meals from our grab n go cooler.

Gluten, Dairy
& Soy-free
Our meals are made from scratch with fresh, whole vegetables & proteins from local purveyors and 99% gluten free, dairy free & soy-free. (Meals labeled with all ingredients.)
Location & Hours
112 Catalpa
Royal Oak, MI 48067
(248) 677-4003
OPEN
Monday 4 - 8pm
Tuesday 11-7pm
Wednesday 11-7pm
Thursday 11-7pm
Friday 11-4pm
CLOSED
Saturday & Sunday
Proudly serving many cities in Southeast Michigan. Enter your zip code at the top of the page to see if we deliver to your area.
3 Ways to Enjoy Golden State
PRE-ORDER
Online ordering opens on Thursday at 8am. Order online by midnight Sunday for Monday delivery or pickup.
Choose pick up or delivery.
All your meals will be ready for pick up or delivery every Monday from 4-8pm
GRAB & GO
You can also just drop in anytime we're open and grab a meal or two.
Pre-ordering is NOT mandatory.
No subscriptions or contracts here. Just delicious food when you need it!
PICKUP/DELIVERY
PICK-UPS for pre-orders are ready on Monday from 4-8pm
DELIVERY starts at 4pm every Monday and is $10 for everyone. Enter your zip code at the top to see if we deliver your area
Just pay the 1 time deposit of $20 for the insulated bag and ice pack than leave the empty bag and ice pack on your porch on your next order and we'll swap it with your new order.